History
Corpus Christi Church, Nundah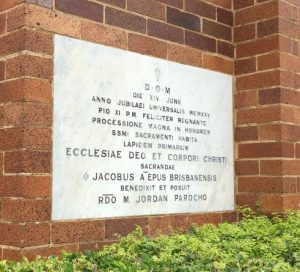 The Corpus Christi Church was constructed in 1925-6, for the Catholic parish at Nundah, who formerly practiced in a small timber church on another site. The church was constructed under the guidance of the then Archbishop James Duhig, who promoted catholic presence in Brisbane by exploiting prominent sites, to produce landmarks. Corpus Christi may have been designed as a scale model for the Holy Name Cathedral which was in the planning stages at this time. The architects for the project were Hennessey, Hennessey, Keesing and Co and the design of both buildings was thought to be reminiscent of St Peter's in Rome, which has the characteristic dome, surmounted by a lantern and cross.
A strong catholic presence in Nundah by 1915, dictated the need for a school, and the Sisters of St. Joseph of the Sacred Heart were asked to join the parish, to open this school. The first parish priest was Father Jordan, who stayed with the Nundah parish until 1941. Previously, priests cycled from the Wooloowin presbytery to say mass in the small timber church. A site was chosen on the grounds near the school and presbytery for a more imposing church.
The laying of the foundation stone of the Corpus Christi Church on June 14, 1925 attracted 20,000 people, who donated £2000 to the construction of the church, although the church was not fully paid off until the 1940s.
Corpus Christi Church was opened on November 21, 1926, in a ceremony which saw eight tiers of lights illuminating the dome. In 1995 the church was added to the Queensland Heritage Register.
Holy Trinity Church, Banyo
Before 1928, mass was held mainly at Nundah, St Vincent's Orphanage and at times, in private homes. The Catholic Church known as "The Real Presence" or affectionately as "The Little Green Church", was situated on the corner of Buckland Road and Duke Street, Nundah. It was opened 19th June, 1904 and became disused as a result of a brick church being erected in nearby Bage Street.
The "Real Presence" was moved bodily to the corner St Vincents Road and Redhill Road, Banyo. It was renamed "St Pius" Church and opened by Archbishop Duhig, 11th September, 1927. The Rev. Fr. Bolton conducted mass until 11th September, 1928.
On 5th February, 1928, The Rev. Dean Brady was inducted as the first Parish Priest of Banyo by Archbishop Duhig. Dean Brady retired in 1945 and passed away in 1951. Rev. Fr. Vince Carroll was given charge of Banyo Parish, Cribb Island, Nudgee beach and the Chaplaincy of St Vincents Home from 1945.
… the "Little Green Church" was destroyed by fire on the 15th March, 1976…A new church was built after the fire and was named "The Church of the Holy Trinity". It was opened and blessed on 29th May, 1977 by the Most Rev. Rush.